ALLEN APPOINTED TO DIGITAL ADVISORY PANEL
May 5, 2022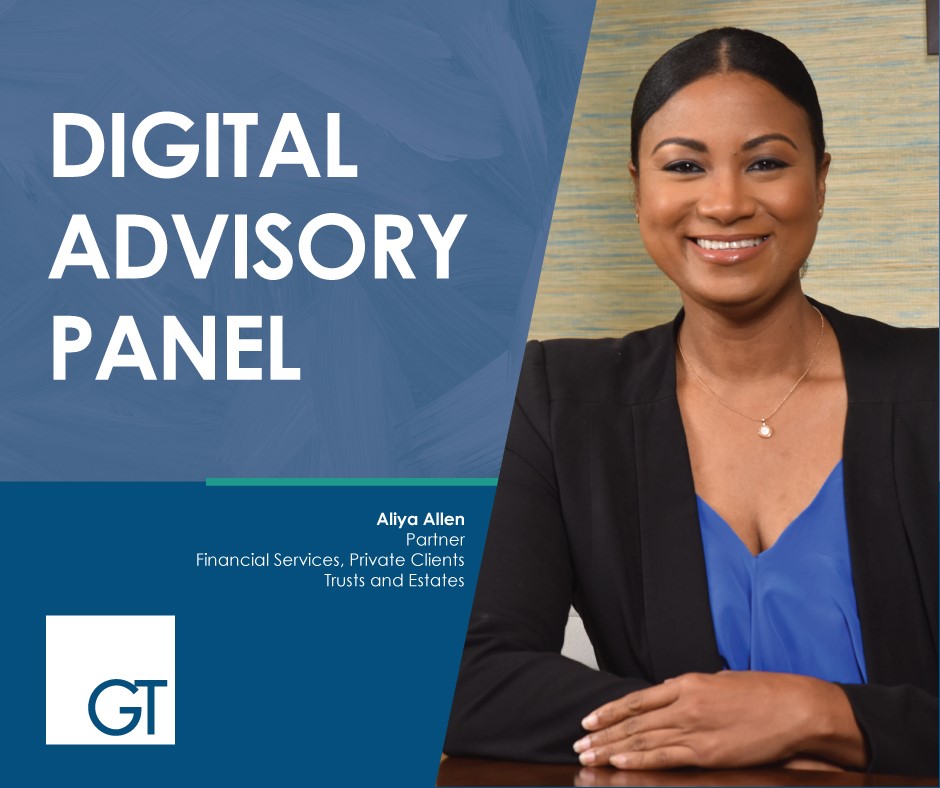 Nassau, The Bahamas – GrahamThompson Partner Aliya Allen has been appointed by the Government of The Bahamas to serve on the new Digital Advisory Panel.
Attorney General and Minster of Legal Affairs Ryan Pinder, who tabled the Government's policy white paper on the digital assets sector in the Senate, announced that the panel, comprising nine-members including the Attorney General, is intended "to keep digital asset development, emerging trends and associated risks, constantly under review. " The panel he said "will be expected to recommend any necessary changes to policy, the DARE Act and other legislation, to ensure that The Bahamas maintains its place as a well-regulated digital asset jurisdiction, while at the same time continuing to remain relevant and attractive for digital asset businesses to operate from, to grow and to prosper."
Aliya, who recently published An Update on Regulatory Developments in The Bahamas Impacting Digital Asset Businesses, is a leading attorney in the FinTech, Blockchain and digital assets space. She has played a pivotal role in the development of industry defining legislation for The Bahamas, including the Digital Assets and Registered Exchanges (DARE) Act, 2020 and the Investment Funds Act, 2019.
A Partner in GrahamThompson's financial services, corporate and private client practice group, Aliya's practice is primarily focused in banking, investment funds, securities, securitisation and capital markets, technology, FinTech, blockchain and digital assets and regulatory matters such as FATCA, CRS, AML/CFT. Aliya is a former CEO and Executive Director of The Bahamas Financial Services Board (BFSB). Her recent publication, An Update on Regulatory Developments in The Bahamas Impacting Digital Asset Businesses, updates a 2018 paper that she published, "The Bahamas' place in a Cryptographic World, A Whitepaper". The piece was cited by the US Law Library of Congress in a report on the global regulatory treatment of cryptocurrencies.
Aliya has received global recognition from IFLR1000 – Guide to the World's Leading Financial Law Firms – as a Notable Practitioner, and has been recognised among Citywealth's IFC Power Women Top 200, for outstanding contributions to the financial services industry. She has written extensively on the legislative and regulatory framework for financial services in The Bahamas.
Last month Aliya was a featured speaker at the widely hailed Crypto Bahamas. She presented on the theme "Trusting Disruption Stage".