Allen to Speak at Crypto Bahamas
April 25, 2022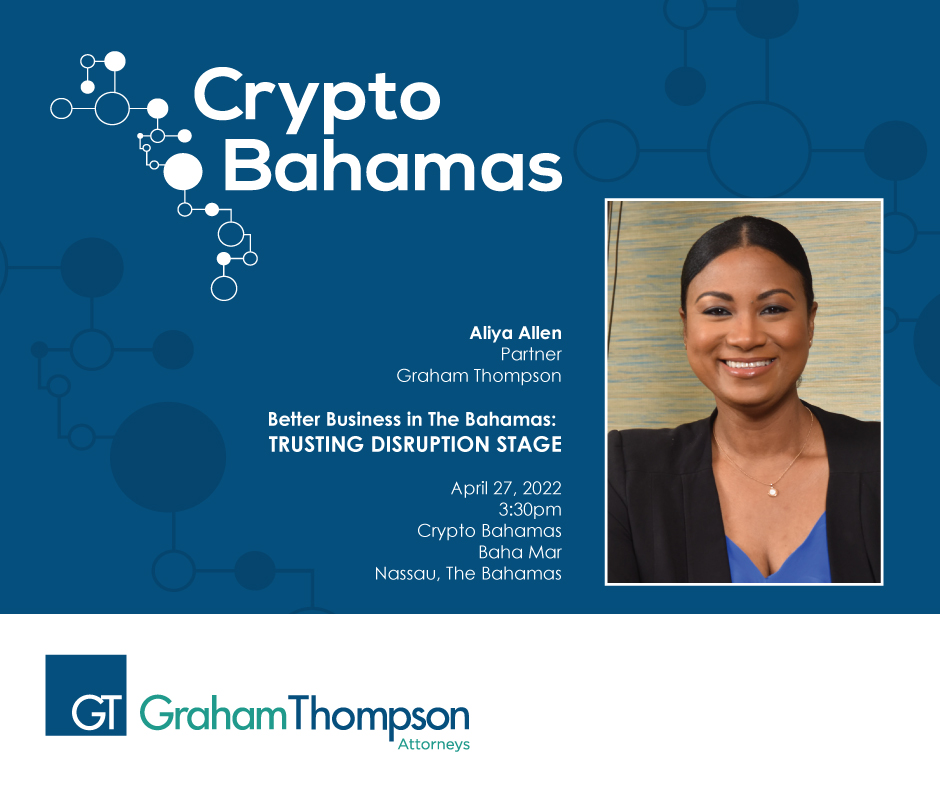 Nassau, The Bahamas – GrahamThompson Partner Aliya Allen will be a featured presenter at Crypto Bahamas. Speaking on the theme "Trusting Disruption Stage", Aliya will be a presenter on the event's Wednesday April 27th Better Business in The Bahamas panel at 3:30 p.m.
A leading attorney in the FinTech, Blockchain and digital assets space, Aliya has been pivotal in the development of industry defining legislation including the Investment Funds Act, 2019 and the Digital Assets and Registered Exchanges Act, 2020.
A Partner in GrahamThompson's financial services, corporate and private client practice group, Aliya's practice is primarily focused in banking, investment funds, securities, securitisation and capital markets, technology, FinTech, blockchain and digital assets and regulatory matters such as FATCA, CRS, AML/CFT. She recently published, An Update on Regulatory Developments in The Bahamas Impacting Digital Asset Businesses. The piece updates her 2018 paper "The Bahamas' place in a Cryptographic World, A Whitepaper", which was cited by the US Law Library of Congress in a report on the global regulatory treatment of cryptocurrencies.
Crypto Bahamas will take place over the four-day, April 26th to April 29th period at Baha Mar, in Nassau, The Bahamas. With a mission to "create abundance by fostering greater adoption of digital assets", the event is projected as an "exclusive gathering of the leading investors and builders in the blockchain digital assets and web3 space." Event programming will comprise Bitcoin, DeFi, NFTs, regulation, web3, gaming and other topics.
Aliya is a former CEO and Executive Director of The Bahamas Financial Services Board (BFSB). She is globally recognised by IFLR1000 – Guide to the World's Leading Financial Law Firms – as a Notable Practitioner, and has been recognised among Citywealth's IFC Power Women Top 200, for outstanding contributions to the financial services industry. She has written extensively on the legislative and regulatory framework for financial services in The Bahamas.