WILSON ON THE IMPACT OF COVID19 ON LITIGATION & DISPUTE RESOLUTION
May 3, 2021
Download PDF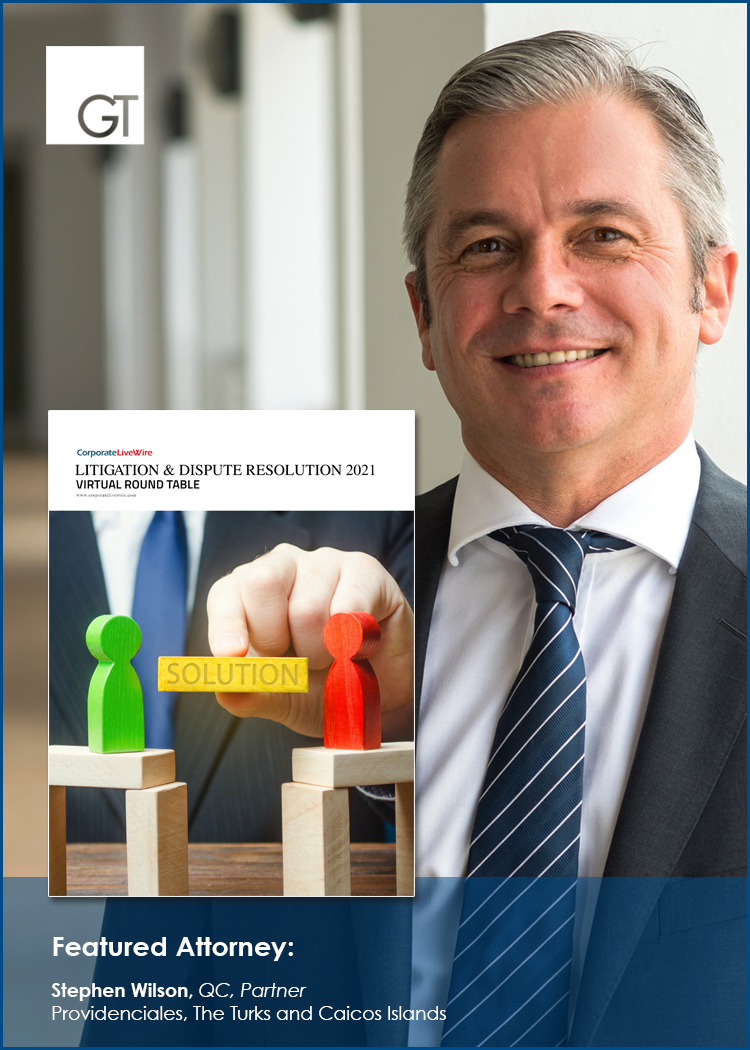 Providenciales, Turks and Caicos Islands – GrahamThompson's Stephen Wilson, QC was a featured expert in the CorporateLiveWire's recent virtual Litigation & Dispute Resolution 2021 round table. The focus of the round table as highlighted by CorporateLiveWire's Editor-in-Chief, James Drakeford, was to "examine the global impact of the COVID-19 pandemic on the litigation and dispute resolution landscape". Including industry trends, case studies and cross-border trends.
Wilson, a Litigation partner and head of the firm's Providenciales office in the Turks and Caicos Islands, was one of five experts contributing to the virtual panel. He offered a snapshot of the kinds of requests his office fielded during 2020, predominantly as a result of the pandemic. "We were asked to advise businesses in the tourism industry how to deal with employees when the income for the business is reduced to zero – navigating lay-offs, short-time, redundancies; dealing with the reality that work permits for expatriate employees will not be renewed".
"We assisted in trying to mitigate the financial exposure for businesses while retaining staff and drafted agreements whereby employees agreed to salary reductions rather than terminating the employment relationship entirely – working together to keep the businesses alive when all the while appreciating that the money simply isn't there to make the big severance payments that would fall due if claimed."
The virtual panel of experts, including representation from Greece, Nigeria, the United Kingdom and the United States, all shared perspectives on how COVID-19 impacted the litigation and dispute resolution landscape in their respective jurisdictions. They discussed the new and emerging challenges due to the global pandemic, and the steps entities should take to remedy the new risks underpinned by COVID-19.
The panel weighed in on what they perceived as new and relevant industry-specific trends, and also discussed regulatory changes and other developments associated with the global pandemic. Panelists also looked beyond COVID-19, sharing views on other issues and developments they expect will have a notable impact on the industry's landscape.
A full PDF copy of the virtual round table can be downloaded here, Litigation & Dispute Resolution 2021.
Stephen Wilson, QC, is a top-ranked Chambers and Partners Band 1 attorney for dispute resolution. He has a broad range of experience with matters in the Admiralty, Shipping and Aviation, Banking and Finance, Corporate and Commercial, Employment and Labour, Insurance, Intellectual Property, and Property and Development sectors.