Inaugural Peter D Graham Distinguished Lecture
May 19, 2020
Download PDF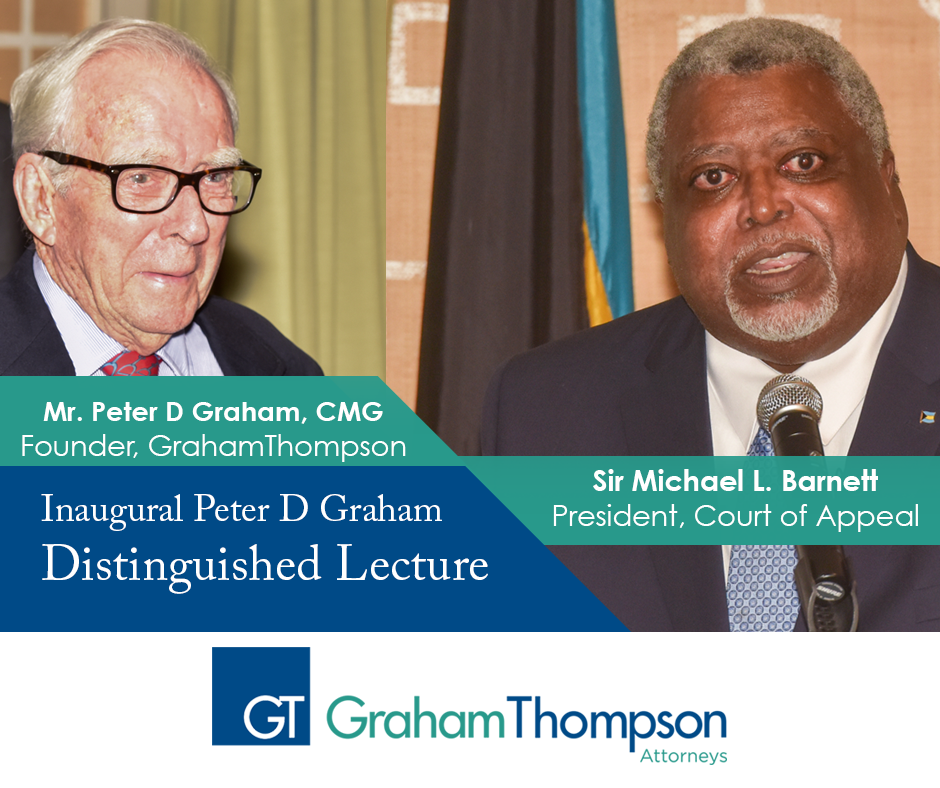 Nassau, The Bahamas – Founded in Nassau, The Bahamas in 1950, the law firm of GrahamThompson kicked off recognition of its 70th year milestone, with a very special tribute to the firm's founding Partner, Peter D. Graham, CMG, with the Inaugural Peter D Graham Distinguished Lecture. The first in what is expected to be annual lecture series.
The Inaugural Peter D. Graham Distinguished Lecture was presented by Sir Michael Barnett, who this past February was sworn in as President of the Court of Appeal for the Commonwealth of The Bahamas.
At the event's opening, Managing Partner, Judy Whitehead explained, "for the 70th anniversary, we wanted to do something different to honour Mr. Graham". "Still the very person in office", Mr Graham she described as someone who "is a very special person to us".
"We wanted to do something to honour his contribution to the Bahamas and also to GrahamThompson." Mrs Whitehead emphasized, "it was Peter Graham who believed in the importance of public service and in contributing to the growth and development of the Bahamas and he also inculcated this into the culture and the DNA of the Firm."
The firm decided that a Peter D Graham Distinguished Lecture Series, would be a fitting honour for the firm's founder. It was also especially fitting that the inaugural lecture be delivered by Sir Michael, a former partner of GrahamThompson, whose career embodies this DNA.
"If you went to work for Graham Thompson the one thing that you knew" Mrs Whitehead expounded, "apart from having to be a good lawyer – is that you had to be committed to public service." She affirmed, "it is absolutely in our DNA".
At his swearing in as Court of Appeal President, the Prime Minister characterised Sir Michael's career as one distinguished by "tremendous public service over many years". "The law" the Prime Minister underscored "is his vocation and public service forms the fiber of his service to The Bahamas".
Sir Michael joined GrahamThompson in 1983 and as Judy Whitehead highlighted about his CV, "it talks very much of the very essence of what Peter Graham is all about -public service -giving back- community and – nation building".
Speaking to a full house of persons that have shared significantly in the firm's 70 years, Sir Michael talked about the evolving landscape of the law – development of the legal profession and the legal system in The Bahamas over GrahamThompson's seven decades.
A full PDF copy of Sir Michael's Presentation can be downloaded here, Inaugural Peter D Graham Distinguished Lecture, Presented by Sir Michael Barnett.