Sean McWeeney QC appointed Bahamas Ambassador to the Vatican
December 12, 2014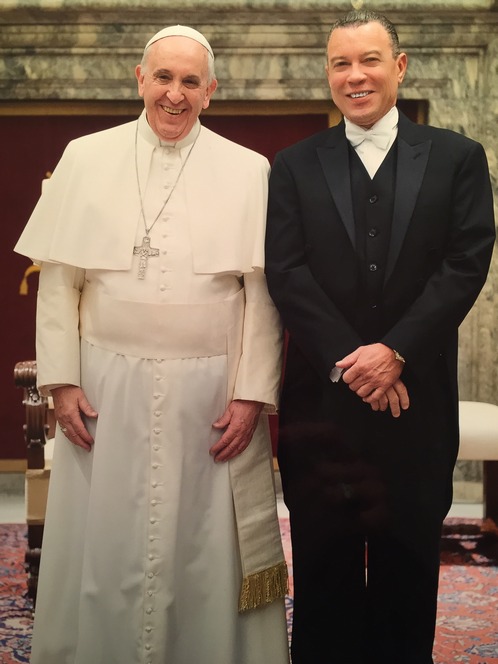 His Excellency Sean McWeeney QC recently presented his letters of credence to His Holiness Pope Francis as the first (non-resident) Ambassador Plenipotentiary and Extraordinary from The Commonwealth of The Bahamas to the Holy See (the Vatican).
A former Attorney-General of The Bahamas, Mr. McWeeney has been a partner of Graham Thompson for nearly 30 years now and is the Chairman of the firm's Private Client/Trust Practice Group.
Mr. McWeeney's ambassadorial appointment is the latest in a long series of appointments under successive governments of The Bahamas, spanning the Pindling administration, the Ingraham administration and the Christie Administration.
Mr. McWeeney served as Attorney General from January 1989 to August 1992.  From 1985 to 1992 he served as a Senator and as Leader of the Government in the Senate between 1991 – 1992.
During the ensuing Ingraham administration, he served as Chairman of the Judicial Review Commission and as Chairman of the Steering and Implementation Committees overseeing the re-structuring of the Royal Bahamian Police Force.  In 1998 he was awarded the Bahamas Silver Jubilee Medal for "Outstanding Contribution to National Development in the Area of Law" and in 2009 he was appointed as one of Her Majesty's Counsel (Queen's Counsel).
In May 2002, and again in 2012, Mr. McWeeney was appointed by incoming Prime Minister Christie as Chairman of his Transition Team.  He also served as the Chairman of the Clifton Acquisition Committee, the first Chairman of the Clifton Heritage Authority, Chairman of the second Judicial Review Commission, and a member of the Government's negotiating committee for the re-acquisition of the majority economic interest in BTC.  He also currently serves as a member of the National Security Council of The Bahamas and as the Chairman of the Constitutional Commission.
In addition to his public service, Mr. McWeeney is an internationally renowned trust law specialist who is routinely ranked in the top tier of trust lawyers by the major international professional ratings publications, including Chambers Global.  He is also generally regarded as the pre-eminent expert at the bar on the law relating to stamp duty and was the primary architect of the sweeping changes made to the Stamp Act from 2005 onwards.
Graham Thompson takes special pride in Mr. McWeeney's many public accomplishments over the years and commends him on his recent non-resident ambassadorial appointment, a post that will still allow him to continue his law practice.