CHISNALL PENS CHAMBERS AND PARTNERS' 2021 REAL ESTATE GLOBAL PRACTICE GUIDE
June 5, 2021
Download PDF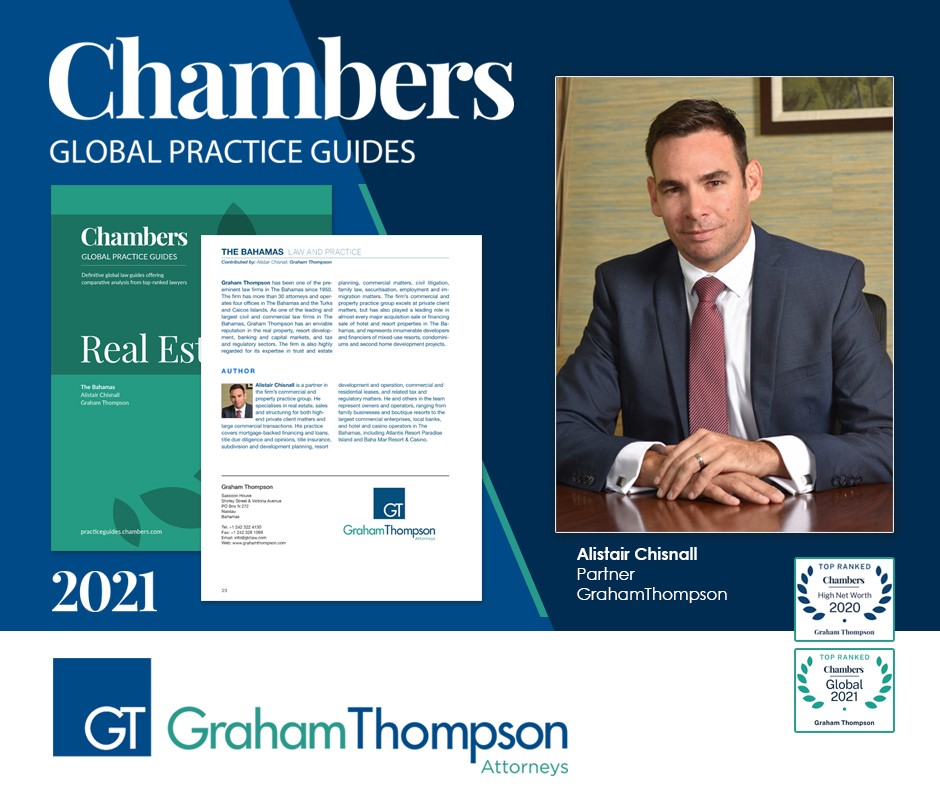 Nassau, The Bahamas – GrahamThompson Partner Alistair Chisnall authored the 2021 Chambers Global Practice Guide on Real Estate in The Bahamas.
The publication, which is a comprehensive guide on the law and practice of Real Estate in The Bahamas, provides key insights on the main market trends and developments in the sector over the previous year, including the impact of COVID-19. Alistair described the fallout from the global pandemic as having had "an immediate and stifling effect on the market". Citing some of the measures taken by the Government of The Bahamas to contain the spread of the virus, which included lockdowns, border closures, quarantine requirements for travelers and other measures, the international segment of the industry was particularly impacted. Alistair also underscored however a rebound in the closing quarter of 2020, which he says saw an "enormous uptick" due to boosts in buying in both domestic and international markets. The Guide outlines some of these developments and the underlying trends that drove them.
The Guide additionally covers a wide range of subject areas essential to the real estate practice in The Bahamas. Including:
Sale and Purchase
Real Estate Finance
Planning and Zoning
Investment Vehicles
Commercial Leases
Construction
Tax
Chambers and Partners practice guides like this one, have been recognised globally as "definitive global law guides offering comparative analysis from top-ranked lawyers".
An online version of the 2021 Bahamas Real Estate Guide can be accessed on the Chambers and Partners website, via this link, https://practiceguides.chambers.com/practice-guides/real-estate-2021/the-bahamas.
GrahamThompson is a top-ranked law firm, with Band 1 rankings from the prestigious London-based organisation, in both Chambers and Partners' Global rankings in General Business Law and the agency's High Net Worth (HNW) Offshore Trusts Sector rankings.
Alistair is a Partner in the firm's Property and Development Practice Group, of which he is also a Co-Chair. He specializes in real estate transactions and conveyancing, sales and structuring for both high-end and private client matters and large commercial transactions.  His practice covers mortgage-backed financing and loans, property title due diligence and opinions, title insurance, subdivision, resort and hotel planning development and operation, commercial and residential leases and related tax matters and issues and in advising on and applying for all governmental and requisite approvals.
Download a PDF copy of the Guide here, Chambers Global Practice Guide, Real Estate 2021 – The Bahamas.