WILSON, QC – ICLG INTERNATIONAL ARBITRATION TCI, 2021
October 18, 2021
Download PDF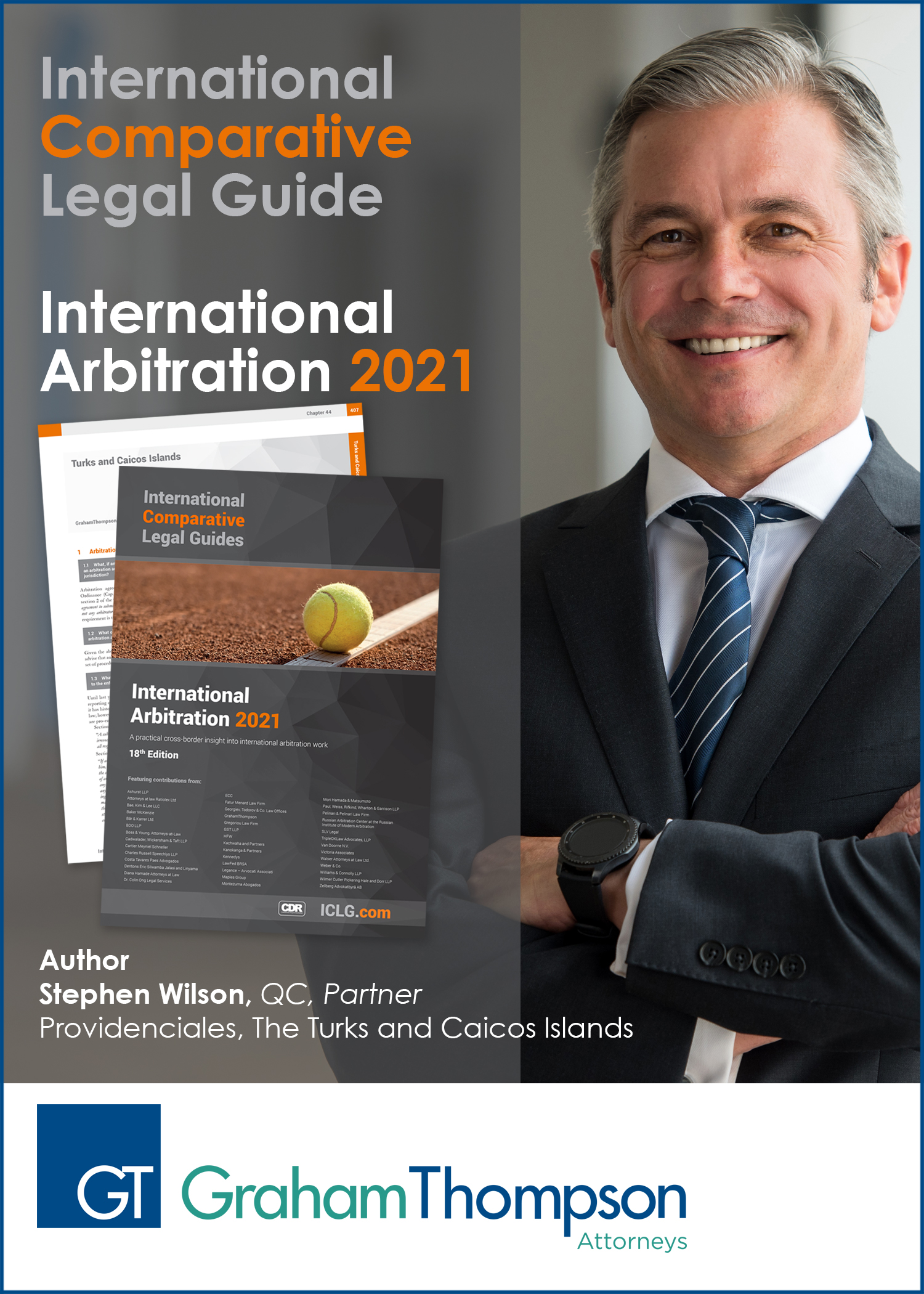 Providenciales, Turks and Caicos Islands – Stephen Wilson, QC, a GrahamThompson Partner and head of the firm's Litigation and Dispute Resolution practice in Providenciales, authored a comprehensive review of international arbitration laws and regulations in the Turks and Caicos Islands (TCI).
The writing, which was first published in the 2021 International Comparative Legal Guide (ICLG) International Arbitration 2021, appears as the 44th chapter in the publication which provides coverage of 37 jurisdictions. The Guide, which is the 18th edition of the publication, is highlighted as "a practical cross-border insight into international arbitration work", can be accessed via this link, ICLG International Arbitration 2021.
The Guide covers fundamental issues in international arbitration laws and regulation from the perspective of the Turks and Caicos Islands. Including arbitration agreements, governing legislation, jurisdiction, choice of law rules, selection of arbital tribunal, procedural rules, preliminary relief and interim measures, evidentiary matters, and other core issues.
Stephen Wilson QC, is a 2021 Chambers and Partners Band I ranked attorney, for the Chambers Global, General Business – Dispute Resolution distinction. A recognition that he has received in every year since 2014.
Stephen has appeared in many of the TCI's headline cases involving disputes in the tourism and hospitality, banking, real estate, insurance and construction/building sectors. He has a broad range of experience with matters in the Admiralty, Shipping and Aviation, Banking and Finance, Corporate and Commercial, Employment and Labour, Insurance, Intellectual Property, and Property and Development sectors. His corporate and commercial work has included complex corporate and commercial disputes comprising multi-jurisdictional claims, multi-party actions, contract breaches, and insolvencies and liquidations involving local and international parties, shareholder disputes, and corporate reorganizations and restructurings. He is also a leading lawyer in intellectual property litigation in TCI.