Allen Presenting at 15th Nassau Conference
September 13, 2022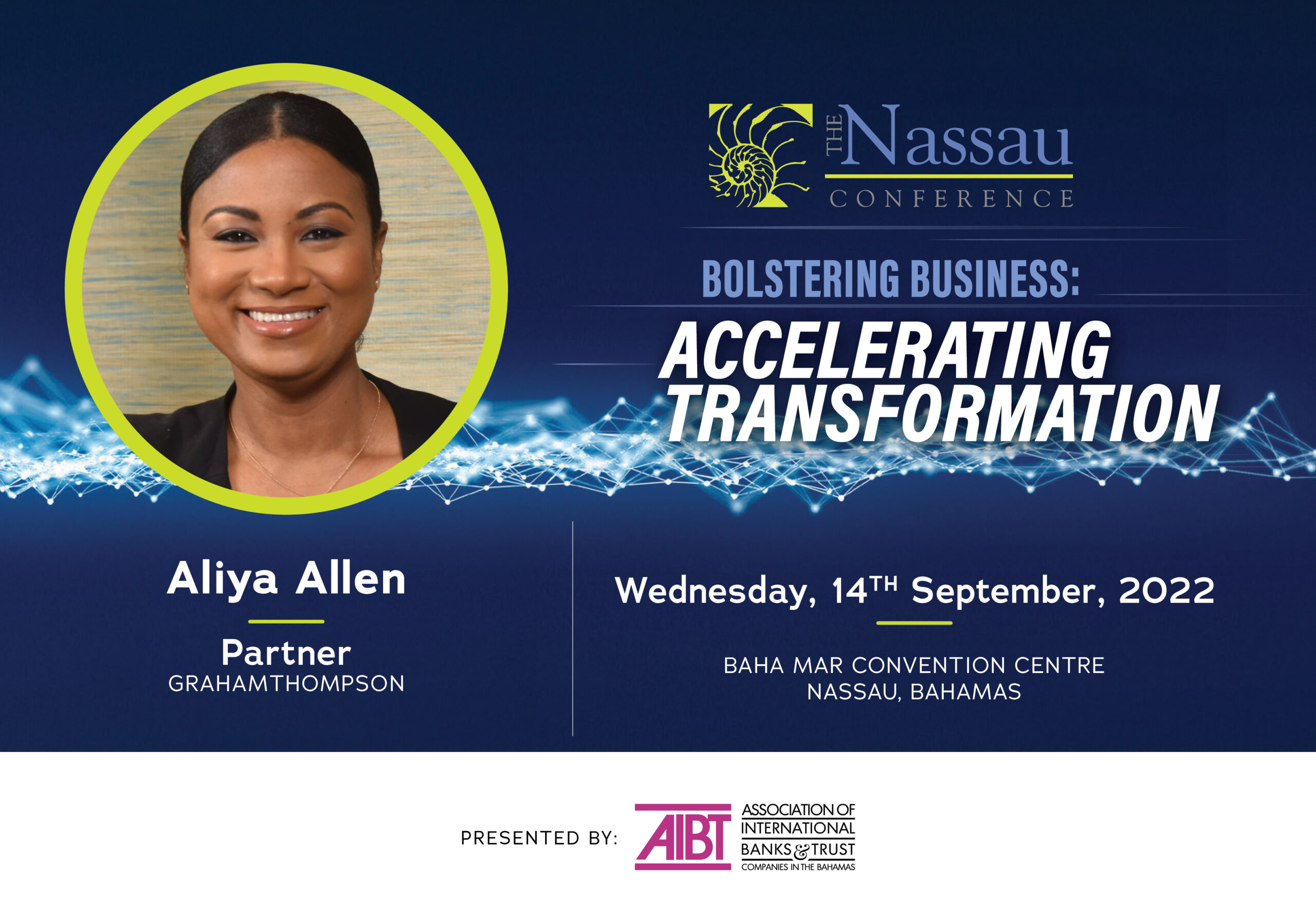 Nassau, The Bahamas – Under the theme "Bolstering Business – Accelerating Transformation", GrahamThompson Partner Aliya Allen will be a featured panelist at the 15th Nassau Conference.
Speaking on the subject "Where do We Grow From Here" Aliya will be joined by Antoine Bastian, Executive Chairman, Genesis Fund Services and Phylicia Hanna, Director of Investments, Ministry of Tourism and Aviation. The panel takes place this Wednesday September 14, 2022 – Session 6, 2:15 p.m.
Aliya is a Partner in GrahamThompson's financial services, corporate and private client practice group. Her practice is focused primarily in banking, investment funds, securities, securitisation and capital markets, technology, FinTech, blockchain and digital assets and regulatory matters such as FATCA, CRS, AML/CFT. In May, Aliya was appointed by The Bahamas Government to the Digital Advisory Panel.
In April, Aliya was a featured presenter on the Better Business in The Bahamas panel at Crypto Bahamas. Aliya gave a high-level overview of Digital Assets Businesses in The Bahamas.
Rewatch that panel here, https://www.youtube.com/watch?v=Tc5O7iyYK_M. Aliya's contribution begins from the 25:00-minute mark. On the panel Aliya joined Deputy Prime Minister and Minister of Tourism and Aviation, Hon. Chester Cooper. Attorney General and Minister of Legal Affairs, Hon. Ryan Pinder. Tanya McCartney CEO and Executive Director of The Bahamas Financial Services Board.
The Nassau Conference takes place at the Baha Mar Convention Centre in Nassau, The Bahamas. For more information about the conference visit www.nassauconference.com.
---
Aliya Allen is a former CEO and Executive Director of The Bahamas Financial Services Board (BFSB). She is globally recognised by IFLR1000 – Guide to the World's Leading Financial Law Firms – as a Notable Practitioner, and has been recognised among Citywealth's IFC Power Women Top 200, for outstanding contributions to the financial services industry. She has written extensively on the legislative and regulatory framework for financial services in The Bahamas.