CAREER OPPORTUNITY – Document Management Specialist
July 13, 2021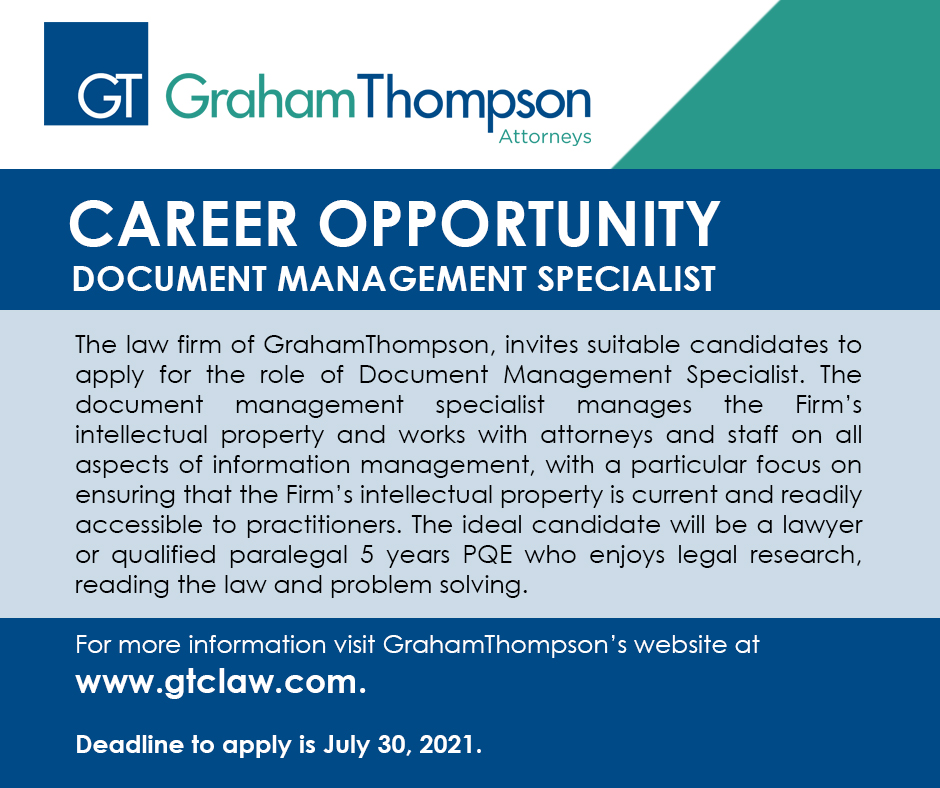 Nassau, The Bahamas – The law firm of GrahamThompson, invites suitable candidates to apply for the role of Document Management Specialist. The document management specialist manages the Firm's intellectual property and works with attorneys and staff on all aspects of information management, with a particular focus on ensuring that the Firm's intellectual property is current and readily accessible to practitioners. The role will require close interaction with attorneys across each of the Firm's practice groups. The successful candidate will:
Bring leadership and innovation to the role.
Be knowledgeable of best practices and developments in document management technologies and techniques.
Have an interest in continued professional development and training in the field.
Have a demonstrated appreciation of data privacy and a general understanding of regulations regarding document management.
Have exceptional organizational and analytical skills, with a keen attention to detail.
Demonstrate strong writing and comprehension skills.
Be a creative problem solver.
Have strong communication and interpersonal skills.
Be proficient with Microsoft Office products and troubleshooting.
The ideal candidate will be a lawyer or qualified paralegal 5 years PQE who enjoys legal research, reading the law and problem solving. He or she will be detail oriented and deadline sensitive, and does not want to engage in a client facing practice. The ideal candidate will take a proactive approach to maintaining an up-to-date database, will have an appreciable understanding of the firm's practice areas and will be promptly responsive to attorneys for research assistance and information retrieval.
Interested persons should send their CV to resume@gtclaw.com no later than July 30, 2021. Shortlisted applicants will be contacted for interviews.