ECONOMIC SUBSTANCE REPORTING DEADLINE APPROACHING
August 3, 2022
Download PDF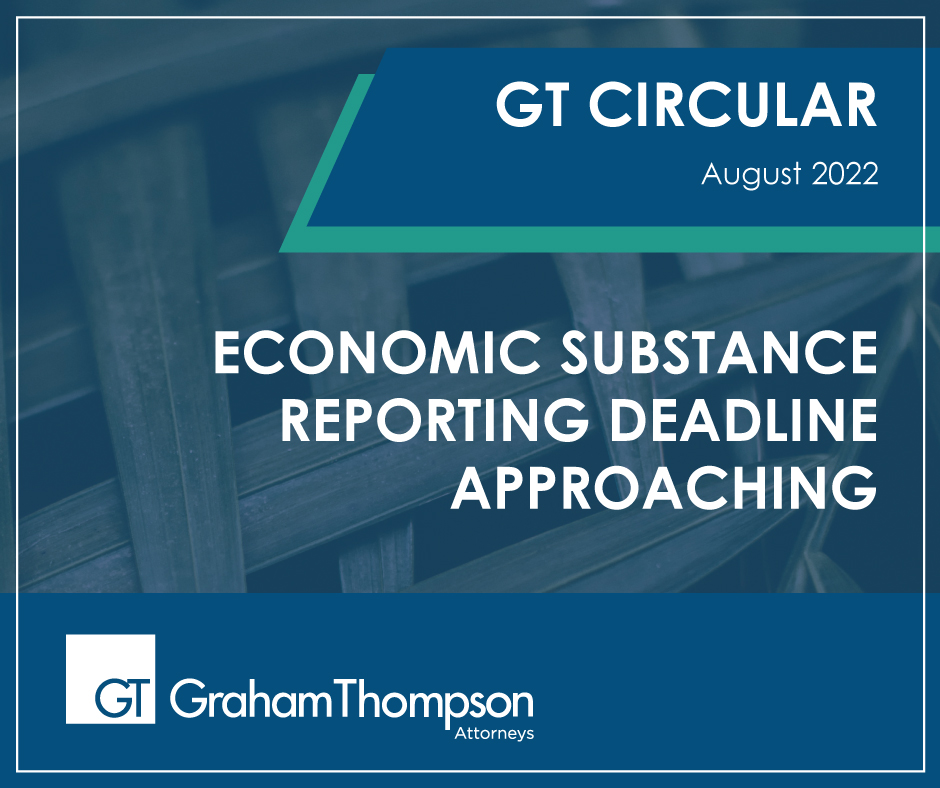 Nassau, The Bahamas. The Bahamas passed the Commercial Entities (Economic Substance) Requirements Act, 2018 ("CESRA") on December 20th, 2018 to comply with OECD BEPS requirements. In summary, entities organized, registered, or continued under certain enactments which are tax resident in The Bahamas and which conduct relevant activities, are required to demonstrate that they have sufficient economic substance ("ES"). Non-Included entities not required to demonstrate ES are entities:
i) not conducting relevant activities;
ii) tax resident and centrally managed in another jurisdiction; or
iii) resident owned and centrally managed in The Bahamas.
ES for an included entity means ensuring direction and management in The Bahamas (i.e. through board meetings in The Bahamas) and that their core income generating activities occur in The Bahamas (i.e. through premises, employees, expenditure). An included entity may, depending on its activities, be required to have full, reduced, or enhanced economic substance. All entities, namely IBCs, ELPs, LLPs and Companies Act companies whether or not they are included entities, are required to report. Penalties for non-compliance may include striking off and/or administrative penalties.
[Download a PDF copy of this Circular here, ECONOMIC SUBSTANCE REPORTING DEADLINE APPROACHING.]
EIN REGISTRATION & REPORTING DEADLINE
In order to report under CESRA, the entity must possess either an Entity Identifier Number or a Tax Identifier Number. This entails a streamlined registration and uploading of the certificate of incorporation of the entity. Graham Thompson can assist with this process as well as reporting for Non-Included Entities. The reporting deadline is 9 months from the end of the (2021) financial year of the entity. By way of example, an entity which had a financial year ending December 31 2021 must procure an EIN or TIN and report in the electronic substance portal by September 30 2022, or if the financial year end is April 30 2022 the reporting deadline is January 31 2023.
For more information on economic substance reporting requirements, please send an email to fincorp@gtclaw.com.
RELEVANT ACTIVITIES
A) Banking Business
B) Insurance Business
C) Fund Management Business
D) Financing and Leasing Business
E) Shipping Business
F) Headquarters Business
G) Distribution and Services Center Business
H) Commercial Use of Intellectual Property
I) a holding company engaged or where one or more of its subsidiaries is engaged in a relevant activity under A) to H)
[Download a PDF copy of this Circular here, ECONOMIC SUBSTANCE REPORTING DEADLINE APPROACHING.]