MCWEENEY QC, TOP RANKED AGAIN
March 7, 2022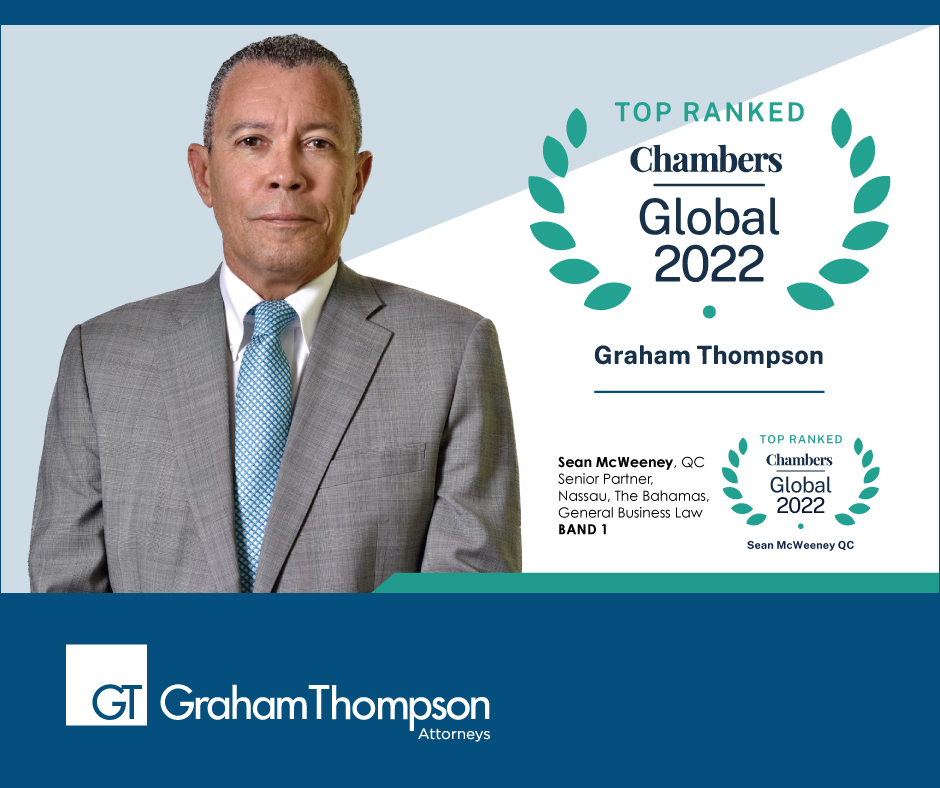 Nassau, The Bahamas – Sean McWeeney QC, a senior partner in the law firm of GrahamThompson, and head of the firm's corporate and financial services practice group is once again Band 1 ranked, Chambers Global 2022, by Chambers and Partners. A recognition that the former Bahamas Attorney General has received for 17 consecutive years.
Chambers Review: Sean McWeeney QC, has a distinguished reputation for his work on wealth management, as well as trusts and estates. He is well regarded for his advisory practice and consistently receives the highest praise from sources in the market. He has hailed in the market as "cerebral and insightful with a real ability to identify solutions to problems".
The law firm of GrahamThompson in The Bahamas is also top-ranked once again, receiving the 2022 Band 1 Global ranking in General Business Law, from the London-based Chambers and Partners. The firm's Turks and Caicos Islands office received the ranking agency's Band 2 distinction in General Business Law. For Dispute Resolution, GrahamThompson was awarded the Band 2 ranking honour.
In addition to Sean McWeeney QC, several of GrahamThompson's attorneys are celebrated for also having received Chambers and Partners top ranking and other distinctions for 2022. In General Business Law, Michelle Pindling-Sands, and Christopher Wells; in General Business Law – Dispute Resolution, Stephen Wilson QC and Tony Gruchot; and in General Business Law – Real Estate Alistair Chisnall, Dana Wells and Craig Roberts.
Chambers and Partners is prominently regarded for its deeply researched, peer review-based rankings of the best-of-the-best in the legal profession around the globe. The agency's rankings have a reach that covers 200 jurisdictions worldwide.