MCWEENEY JR. AUTHORS DATA PROTECTION AND PRIVACY PRACTICE GUIDE
March 30, 2021
Download PDF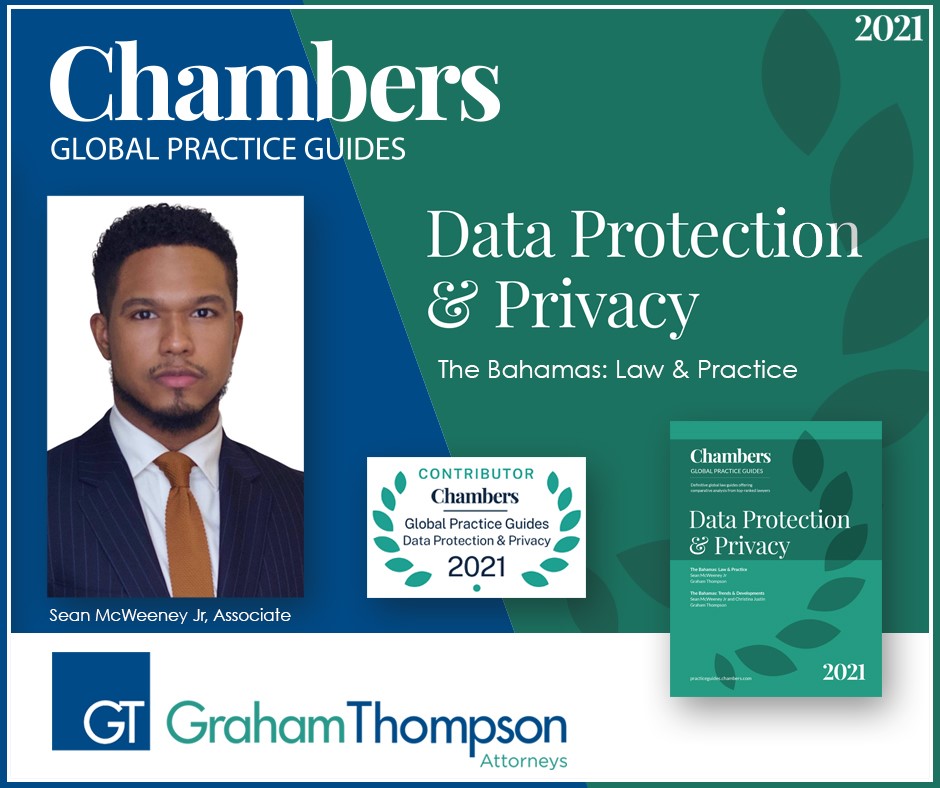 Nassau, The Bahamas – GrahamThompson Associate Sean McWeeney Jr. who is also a member of the firm's Financial Services, Private Client, Trusts and Estates Practice Group, authored the 2021 Chambers Global Data Protection and Privacy Practice Guide for The Bahamas. It is the first such Guide published for The Bahamas.
Notably, the Guide also includes an article on the recent trends and developments in data protection and privacy in The Bahamas. This article was co-authored by Sean McWeeney Jr. and GrahamThompson Associate Christina Justin who is a member of the firm's Litigation and Dispute Resolution Practice Group.
The Guide provides a framework for the basic national regime for data protection and privacy in The Bahamas, including significant pending changes; and it discusses the fundamental laws governing these areas, including a look at sectoral and special issues. The Guide also provides a comprehensive review of law enforcement and national security access and surveillance.
Emerging digital and technology issues are presented in the Practice Guide, which also provides a snapshot of a number of international considerations.
The Trends and Developments article takes a closer at the year that was, 2020, and data protection and privacy issues that arose or were amplified, as a direct result of the COVID-19 pandemic. The article cites "major privacy issues that emerged in 2020". The article highlights important fintech developments, including the Central Bank of The Bahamas' launch of the Sand Dollar, a Central Bank Digital Currency (CBDC), and global first for central banks around the world.
An online version of the Data Protection & Privacy Practice Guide for The Bahamas, is available on the Chambers and Partners website, via this link, https://practiceguides.chambers.com/practice-guides/data-protection-privacy-2021/the-bahamas.
Chambers and Partners Practice Guides are internationally recognised as "definitive global law guides" that offer "comparative analysis from top-ranked lawyers".
GrahamThompson is a top-ranked law firm, achieving Band 1 ranking from the prestigious London-based organisation in both Chambers and Partners Global ranking in General Business Law, and in the agency's High Net Worth (HNW) Offshore Trust Sector ranking.
Download a PDF copy of the 2021 Chambers Global Practice Guide: Data Protection & Privacy, The Bahamas.